Feed Through Capacitor 1UF 150V Filtering China Manufacturer
Description
The feed through capacitor 1uf  150v is directly installed on the metal panel, so its grounding inductance is smaller, and there is almost no influence of lead inductance. In addition, its input and output ends are isolated by the metal plate, eliminating high-frequency coupling. These two characteristics determine the wear-through capacitor. The cardiac capacitor has a filtering effect close to the ideal capacitor.
It is a ceramic dielectric, and the capacity of the ceramic capacitor will change with the change of the ambient temperature, and this capacity change will affect the filter cutoff rate of the filter. The capacity temperature change rate of ceramic capacitors is determined by the ceramic dielectric itself. Therefore, it is very important to choose an appropriate ceramic medium. The capacitors used in the filter are generally ceramic capacitors. Due to its physical structure, such ceramic capacitors are also known as feedthrough capacitors.
Reference picture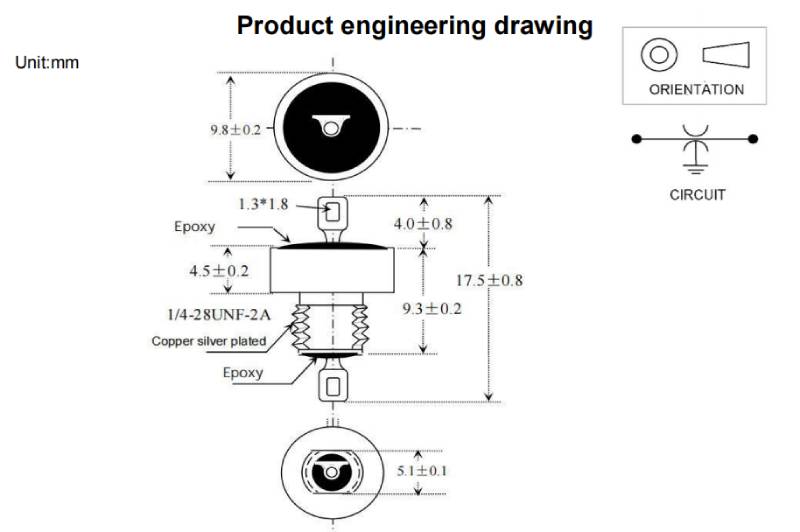 Feed through Capacitor 1uf 150v—Features
1.Almost no inductance
2. Filtering
Specification
| Capacitance Value | 1UF |
| --- | --- |
| Dissipation Factor | <3.5% |
| Tolerance | -20%+80% |
| Material |  X7R |
| Rate Voltage | 150VDC |
| Withstand Voltage | 250VDC |
| Max Current(A) | 15 |
| Insulation resistance (100VDC) | 1000mΩ |
| Temperature Range |  -55~+125℃ |
| Installation torque | 0.8N·M |
| Welding Temperature | ≤300℃ |
| Welding Time | 3S |
| Part No.: | XSL1/4-28UNF-2A-019 |
Our advantage
1. Have 18 years experiences in capacitor industry. Be able to quickly understand the needs of customers and give feedback quickly.
2. Covers all capacitors: Electrolytic capacitors, film capacitors, safety capacitors, ceramic capacitors, super capacitors.
3.With 200 production lines, the sample delivery time is 3 days, and the bulk goods delivery time is 2 weeks.
4.The company has its own R&D team and after-sales team, providing complete pre-sale, in-sale and after-sale services.
Contact us
We are a supplier of electrolytic capacitor, and we have rich experiences in this field. Our daily production capacity can reach  7 million electrolytic capacitors, the sample period is 3 days, and the production cycle is 10 days. We will give you great support in terms of price, quality and delivery time.
And Support Customer's Visit To The Factory
e-mail:  sales1@xuanxcapacitors.com
Pho(whatsapp):+ 86-18825879082
Skype:Coco.psh
website:xuanxcapacitors.com